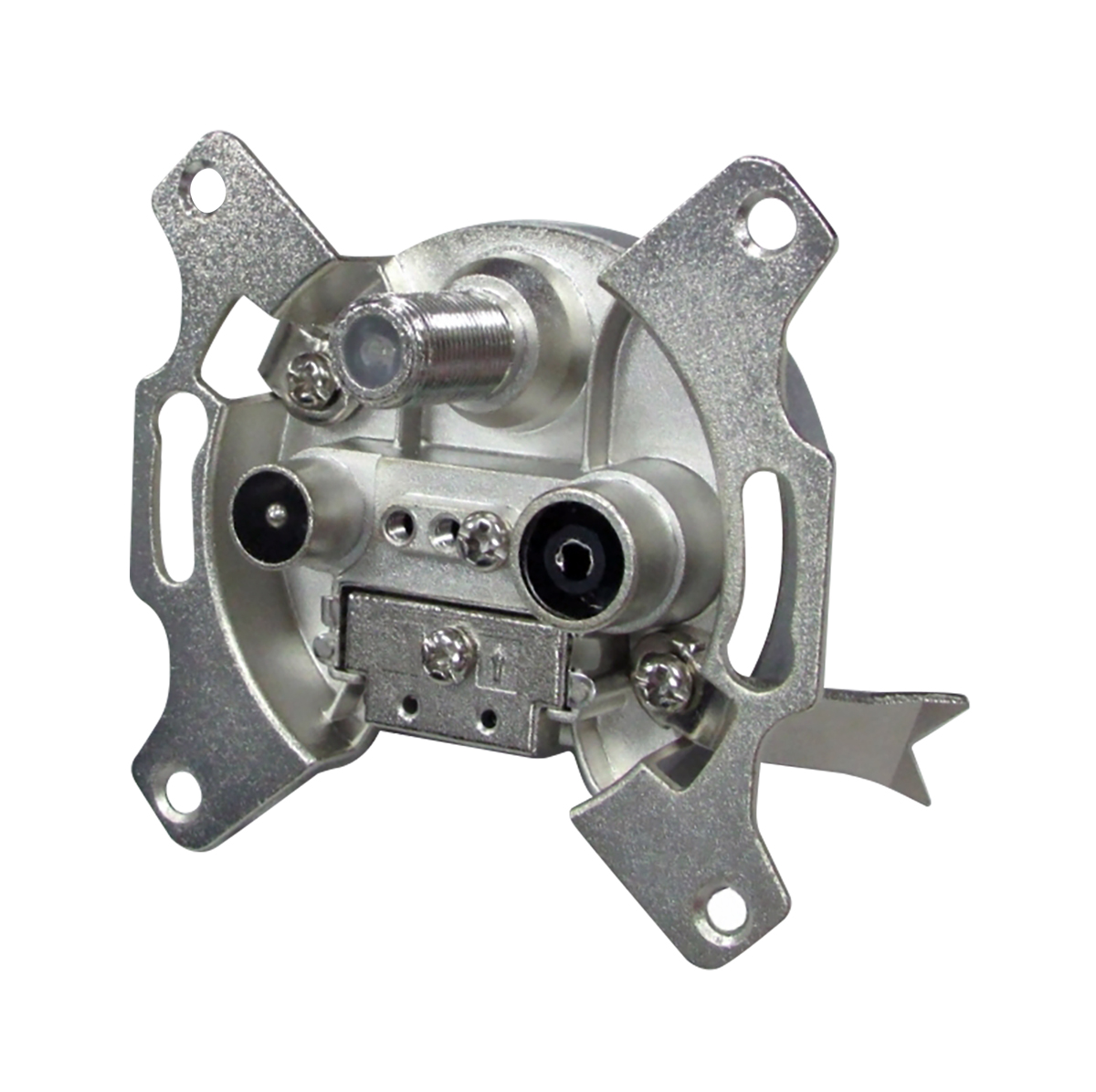 Multi-Media Wall Outlet Socket
Design for mini-star or loop-through distribution system
Single cable input dedicate to 3 output ports for Radio, TV and Data
High isolation between interface ports
Provided class A screening against the external EMI
The galvanic isolation protection against hum modulation and leakage currents
TFA-601(T)- series with Cover, Frame
High Isolation and Class A Screening Multimedia Outlet Socket
Briefing :
The Zinwell multimedia wall outlet is used in all CATV networks in which data signals are transported via the coaxial cable.
The TFA-601 series has TV, Radio, Data connectors for a variety of broadcast & Internet applications. It features class A screening against electrical magnetic radiation, high isolation between interface ports against cross talk. The high rejection filter on TV port protect TV set from saturation caused by the strong signals from cable modem.
The sturdy housing guarantees a long life under severe environment conditions. This series has options for both the mini-star and loop-through systems.
The entire TFA-601 series of wall outlets can be connected directly with RG-59, RG-6 and other cables.
For wall mounting situations, surface and salient mount housing for mounting the wall outlet are available, manufactured in "ABS" plastic, and fitted with 2 mounting screws.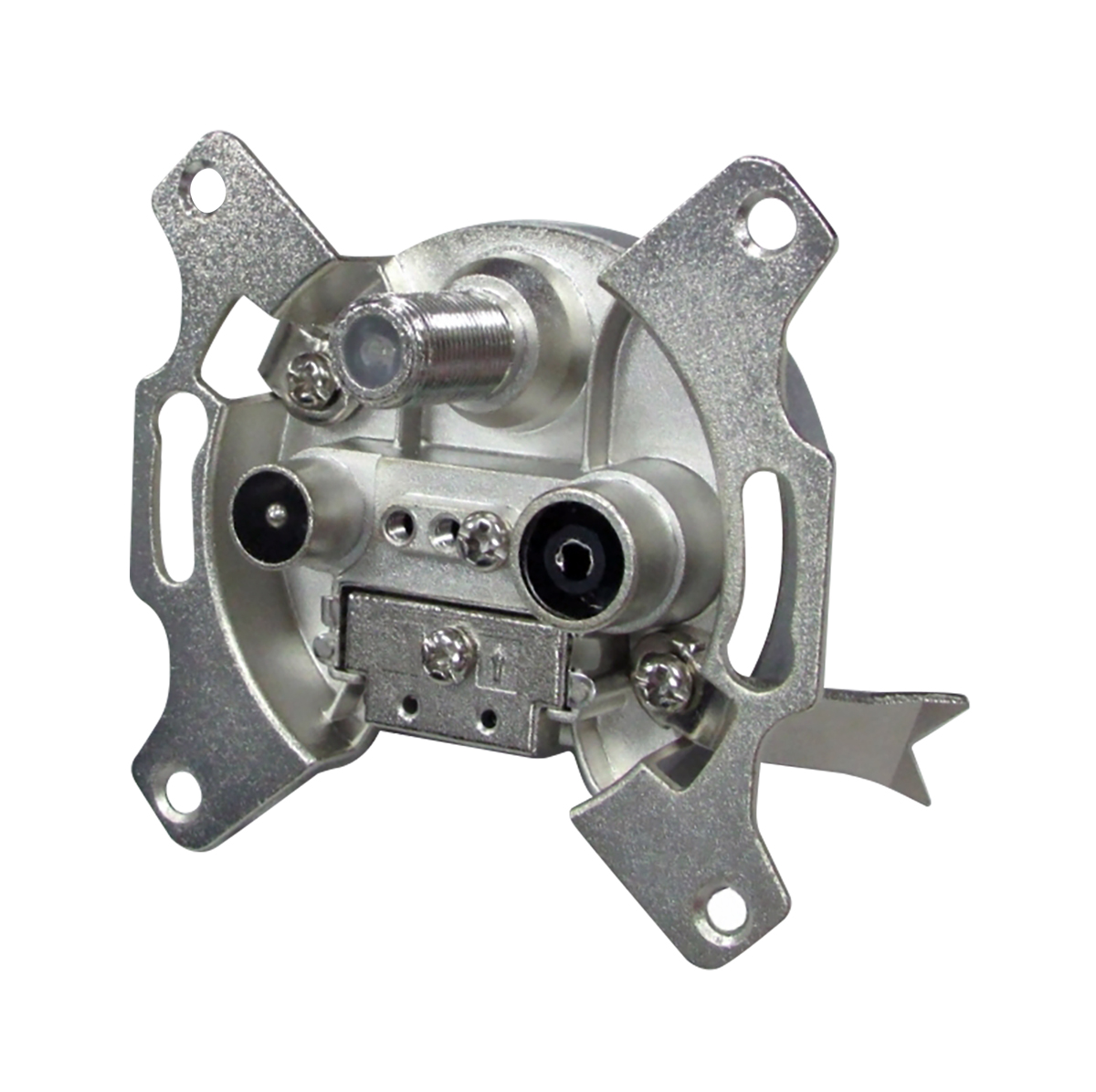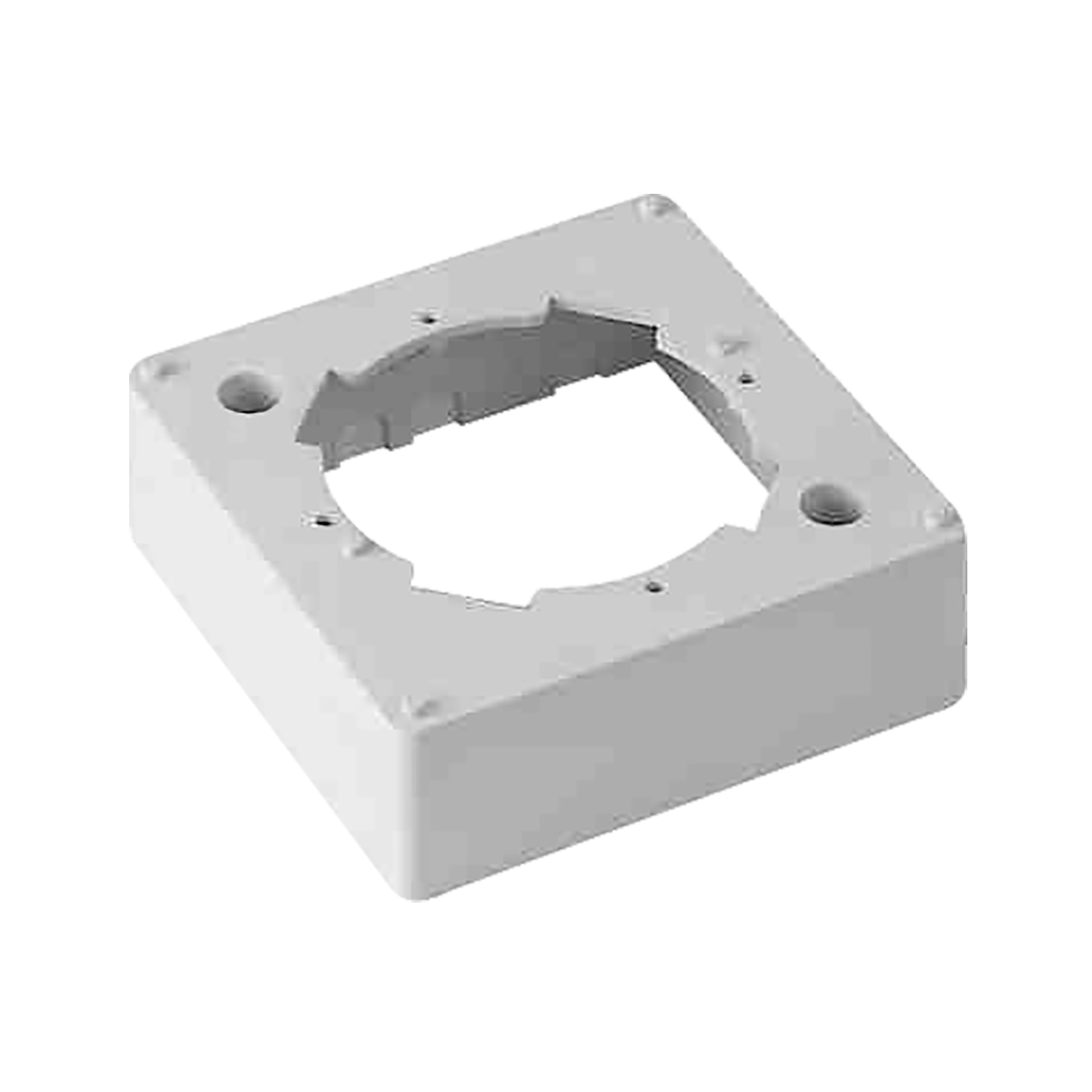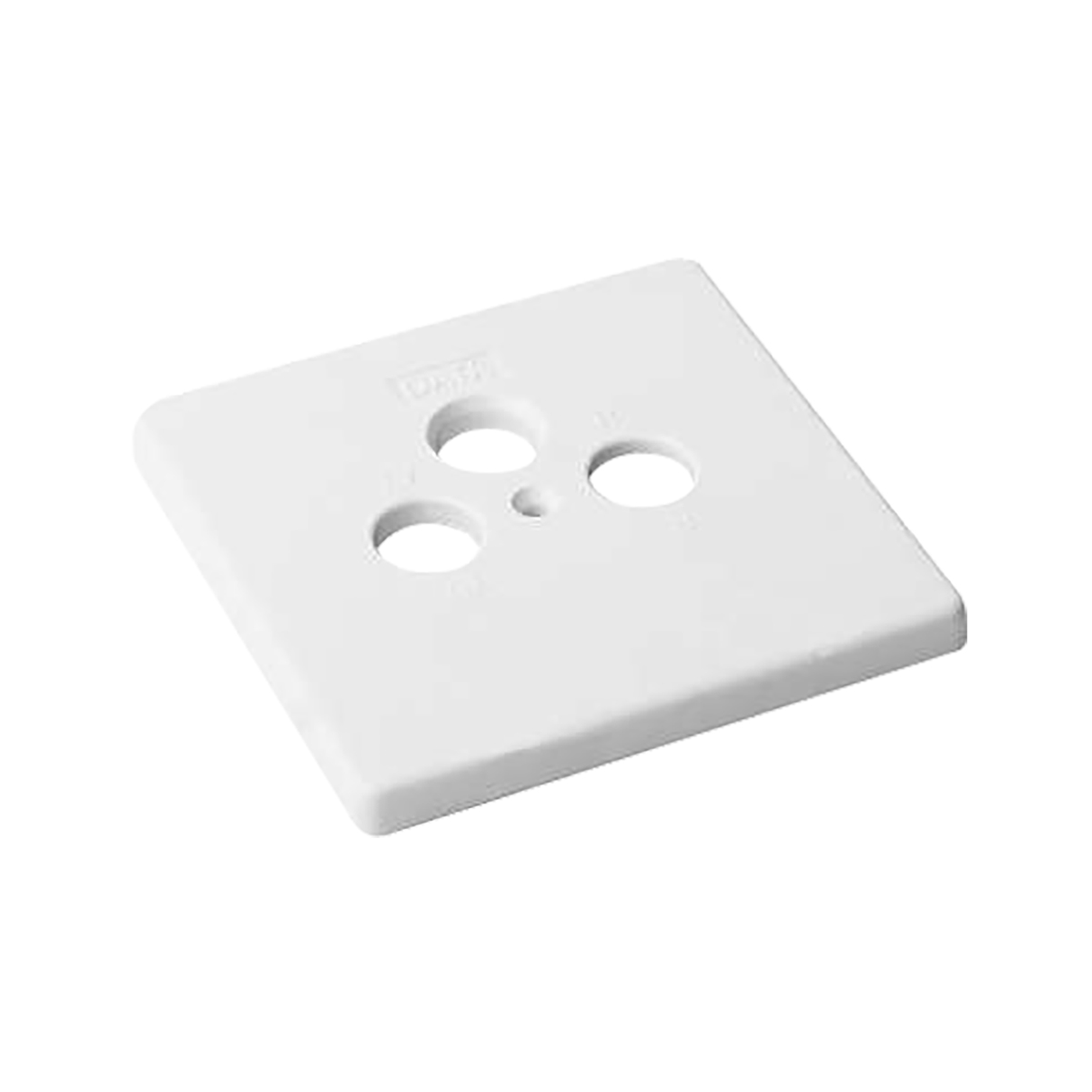 Description
Freq. ( MHz )
TFA-601-8
TFA-601-10
TFA-601-13
TFA-601-17
Insertion   Loss  (dB)         
IN - OUT  
5 ~ 47
3 ± 1 
2 ± 0.8 
1.5 ± 1 
0.8 ± 0.6 
47 ~ 300
3 ± 1 
2 ± 0.5 
1.5 ± 0.8
0.8 ± 0.6 
300 ~ 860
3.5 ± 1 
2.8 ± 1 
1.8 ± 1 
1 ± 1 
860 ~ 1000
4 ± 1 
3.5 ± 1 
2 ± 1 
1.5 ± 1 
IN - DATA 
5 ~ 860
8 ± 1 
10 ± 1 
13 ± 1 
17.5 ± 1 
860 ~ 1000
8.5 ± 1 
10 ± 1 
13 ± 1 
17.5 ± 1 
IN - TV   
5 ~ 30
50  min.
50  min.
50  min.
50  min.
47 ~ 68
8.5 ± 1 
10.5 ± 1 
13.5 ± 1 
17.5 ± 1 
87.5 ~ 108
25  min.
25  min.
25  min.
25  min.
125 ~ 860
8.5 ± 1 
10.5 ± 1 
13.5 ± 1 
17.5 ± 1 
860 ~ 1000
8.5 ± 1.5 
10.5 ± 1 
13.5 ± 1 
17.5 ± 1 
IN - R  
5 ~ 30
50  min.
50  min.
50  min.
50  min.
30 ~ 68
30  min.
30  min.
30  min.
30  min.
87.5 ~ 108
8.5 ± 1 
10.5 ± 1 
13.5 ± 1 
17.5 ± 1 
125 ~ 1000
22  min.
22  min.
22  min.
22  min.
Isolation   (dB)       
TV - R 
5 ~ 68
20  min.
20  min.
20  min.
20  min.
87.5 ~ 108 
20  min.
20  min.
20  min.
20  min.
125 ~ 1000 
20  min.
20  min.
20  min.
20  min.
DATA - TVDATA - R 
5 ~ 30
50  min.
50  min.
50  min.
50  min.
47 ~ 300
40  min.
40  min.
40  min.
40  min.
300 ~ 860
34  min.
34  min.
34  min.
34  min.
860 ~ 1000
30  min.
30  min.
30  min.
30  min.
DATA - OUT  
5 ~ 30
24  min. 
28  min. 
28  min. 
28  min. 
47 ~ 300
34  min.
34  min.
34  min.
34  min.
300 ~ 860
28  min.
28  min.
28  min.
28  min.
860 ~ 1000
22  min.
22  min.
22  min.
22  min.
OUT - TV

OUT - R 

5 ~ 30
50  min. 
50  min. 
50  min. 
50  min. 
47 ~ 300
34  min.
34  min.
34  min.
34  min.
300 ~ 860
28  min.
28  min.
28  min.
28  min.
860 ~ 1000
22  min.
22  min.
24  min.
24  min.
 Return Loss  (dB)    
IN 
5 ~ 47
12
 
14
 
47 ~ 1000
18 *
 
OUT 
5 ~ 47
14  min.
47 ~ 1000
18 *
DATA 
5 ~ 47
14  min.
47 ~ 1000
14 *, but ≧ 10
TV 
47 ~ 68
14  min.
125 ~ 1000
14 *, but ≧ 10
RADIO
87.5 ~ 108 
10  min.
Connectors  
IN, OUT
 
Terminal Block
DATA
 
 "F" Female
TV
 
 "IEC" Male
R
 
 "IEC" Female
 Screening
 
30 ~ 300 
85 dB min.
 
 
 
 (According to 
300 ~ 470
80 dB min.
 
 
 
  EN50083-2, Class A)
470 ~ 1000 
75 dB min.
 
 
 
 Impedance
 
 
75 Ω
 Dimensions (with connectros), Weight
70 x 67.6 x 36 mm , 110 g
 Description
  Freq. ( MHz )
TFA-601-8-65
TFA-601-10-65
TFA-601-13-65
 Insertion   Loss  (dB)       
IN - OUT  
5 ~ 65
2.6 ± 0.8
2 ± 0.8
1.5 ± 0.5
65 ~ 300
2.8 ± 0.5
2 ± 0.5
1.5 ± 0.5
300 ~ 860
3.5 ± 0.8
2.5 ± 0.8
1.8 ± 0.5
860 ~ 1000
3.8 ± 1
3 ± 1
2.0 ± 0.5
IN - DATA 
5 ~ 860
8 ± 1
10 ± 1
13.5 ± 1
860 ~ 1000
8.5 ± 1
10.5 ± 1
13.5 ± 1
IN - TV  
5 ~ 65
60 typ.  50 min.
60 typ.  50 min.
70 typ.  55 min.
87.5 ~ 108
30 typ.  25 min.
30 typ.  25 min.
35 typ.  25 min.
125 ~ 300
8.5 ± 1
10.5 ± 1
13.5 ± 1
300 ~ 1000
8 ± 1
10 ± 1
13.5 ± 1
IN - R 
5 ~ 65
55 typ.  50 min.
55 typ.  50 min.
60 typ.  50 min.
87.5 ~ 108
10 ± 1
11.5 ± 1
14.5 ± 1
125 ~ 1000
30 typ.  22 min.
30 typ.  22 min.
30 typ.  24 min.
 Flatness
 
5 ~ 1000
0.2 dB/ 0.5 MHz and 0.5 dB/ 7 MHz
 
 
 Isolation   (dB)        
TV - R 
5 ~ 65
60 min.
60 min.
60 min.
87.5 ~ 108 
20 min.
20 min.
20 min.
125 ~ 1000 
20 min.
20 min.
20 min.
DATA - TV,DATA - R 
5 ~ 65
70 typ.  60 min.
70 typ.  60 min.
70 typ.  60 min.
65 ~ 300
40 min.
40 min.
40 min.
300 ~ 860
34 min.
34 min.
34 min.
860 ~ 1000
30 min.
30 min.
30 min.
DATA - OUT  
5 ~ 65
45 typ.  40 min.
50 typ.  40 min.
50 typ.  40 min.
65 ~ 300
32 min.
34 min.
34 min.
300 ~ 860
26 min.
28 min.
26 min.
860 ~ 1000
20 min.
20 min.
20 min.
OUT - TV,OUT - R 
5 ~ 65
65 typ.  50 min.
65 typ.  50 min.
60 typ.  50 min.
65 ~ 300
34 min.
34 min.
34 min.
300 ~ 860
28 min.
28 min.
28 min.
860 ~ 1000
22 min.
22 min.
24 min.
Return Loss  (dB)  
IN, OUT 
5 ~ 65
20 typ.  16 min.
20 typ.  16 min.
18 typ.  14 min.
87.5 ~ 108
18 *
18 *
18 *
125 ~ 1000
18 *
18 *
18 *
DATA 
5 ~ 65
18 min.
18 min.
18 min.
65 ~ 1000
18 *
18 *
18 *
TV
125 ~ 1000
14 *, but ≧ 10
14 *, but ≧ 10
14 *, but ≧ 10
RADIO
87.5 ~ 108 
10 min.
10 min.
10 min.
Connectors  
IN, OUT
 
Terminal Block
 
 
DATA
 
 "F" Female
 
 
TV
 
 "IEC" Male
 
 
R
 
 "IEC" Female
 
 
 Screening
30 ~ 300 
85 dB min.
 
 
 (According to 
300 ~ 470
80 dB min.
 
 
  EN50083-2, Class A)
470 ~ 1000 
75 dB min.
 
 
 Impedance
 
 
75 Ω
 
 
 Dimensions (with connectros), Weight
70 x 67.6 x 36 mm , 110 g
 
 
 Description
Freq. ( MHz )
TFA-601T-4
TFA-601T-8
TFA-601T-10
Insertion  Loss  (dB)     
IN - DATA
5 ~ 1000 
3.8 ± 0.8
8 ± 1
10 ± 1
IN - TV   
5 ~ 30 
40 typ.  30 min.
37 typ.  30 min.
37 typ.  30 min.
47 ~ 68 
4 ± 1
2 ± 1
2 ± 1
87.5 ~ 108 
30 typ.  20 min.
25 typ.  20 min.
25 typ.  20 min.
125 ~ 860 
4.5 ± 1
2 ± 1
2 ± 1
860 ~ 1000 
5 ± 1
2.5 ± 1
2.5 ± 1
IN - R  
5 ~ 68 
35 typ.  30 min.
30 typ.  25 min.
30 typ.  25 min.
87.5 ~ 108 
4.5 ± 1
2.4 ± 1
2 ± 1
125 ~ 860 
35 typ.  25 min.
30 typ.  25 min.
30 typ.  25 min.
860 ~ 1000 
30 typ.  20 min.
30 typ.  25 min.
30 typ.  25 min.
Isolation     (dB)     
R - TV 
5 ~ 68 
35 typ.  30 min.
35 typ.  25 min.
35 typ.  25 min.
87.5 ~ 108 
25 typ.  20 min.
25 typ.  20 min.
25 typ.  20 min.
125 ~ 1000 
35 typ.  25 min.
35 typ.  22 min.
35 typ.  22 min.
DATA - TV 
5 ~ 30 
70 typ.  60 min.
55 typ.  50 min.
60 typ.  50 min.
47 ~ 68 
40 typ.  32 min.
40 typ.  32 min.
40 typ.  32 min.
125 ~ 1000 
30 typ.  22 min.
35 typ.  22 min.
35 typ.  22 min.
DATA - R 
5 ~ 30 
65 typ.  55 min.
65 typ.  55 min.
65 typ.  55 min.
47 ~ 68 
45 typ.  40 min.
55 typ.  45 min.
55 typ.  45 min.
125 ~ 1000 
35 typ.  22 min.
40 typ.  30 min.
40 typ.  30 min.
Return  Loss  (dB)   
 IN 
47 ~ 68 
18 min.
18 min.
18 min.
87.5 ~ 108 
18 min.
14 min.
14 min.
125 ~ 1000 
18 *
18 *
18 *
DATA 
5 ~ 47 
20 min.
18 min.
18 min.
47 ~ 1000 
20 *
18 *
18 *
TV 
47 ~ 68 
14 min.
14 min.
14 min.
125 ~ 1000 
14 *, but ≧ 10
14 *, but ≧ 10
14 *, but ≧ 10
RADIO
87.5 ~ 108 
10 min.
10 min.
10 min.
Connectors  
IN
 
Terminal Block
 
 
DATA
 
 "F" Female
 
 
TV
 
 "IEC" Male
 
 
R
 
 "IEC" Female
 
 
 Screening
30 ~ 300 
85 dB min.
 
 
 (According to 
300 ~ 470
80 dB min.
 
 
  EN50083-2, Class A)
470 ~ 1000 
75 dB min.
 
 
 Impedance
 
 
75 Ω
 Dimensions (with connectros), Weight
70 x 67.6 x 36 mm , 110 g
 
 
 Description
  Freq. (MHz)
TFA-601T-4-65
TFA-601T-8-65
TFA-601T-10-65
Insertion   Loss  (dB)     
IN - DATA 
5 ~ 860
3.8 ± 1
8 ± 1
10 ± 1
860 ~ 1000
4.2 ± 1
8 ± 1
10 ± 1
IN - TV   
5 ~ 65
60 typ.  50 min.
60 typ.  50 min.
60 typ.  50 min.
87.5 ~ 108
30 typ.  22 min.
30 typ.  22 min.
30 typ.  20 min.
125 ~ 300
4.0 ± 1
2.0 ± 1
2.0 ± 1
300 ~ 860
4.2 ± 1
2.0 ± 1
2.0 ± 1
860 ~ 1000
4.2 ± 1
2.5 ± 1
2.0 ± 1
IN - R  
5 ~ 65
45 typ.  35 min.
45 typ.  35 min.
45 typ.  35 min.
87.5 ~ 108
4.2 ± 1
2.4 ± 1
2 ± 1
125 ~ 1000
30 typ.  22 min.
30 typ.  22 min.
30 typ.  22 min.
Isolation   (dB)       
TV - R  
5 ~ 65
60 min.
60 min.
60 min.
87.5 ~ 108 
22 min.
20 min.
20 min.
125 ~ 1000 
22 min.
22 min.
22 min.
DATA - TV   
5 ~ 65
70 typ.  60 min.
70 typ.  60 min.
70 typ.  60 min.
65 ~ 300
25 min.
25 min.
25 min.
300 ~ 860
22 min.
22 min.
22 min.
860 ~ 1000
22 min.
22 min.
22 min.
DATA - R   
5 ~ 65
60 typ.  50 min.
60 typ.  50 min.
60 typ.  50 min.
65 ~ 300
25 min.
25 min.
25 min.
300 ~ 860
25 min.
25 min.
25 min.
860 ~ 1000
25 min.
25 min.
25 min.
IN 
5 ~ 65
20 typ.  18 min.
20 typ.  18 min.
20 typ.  18 min.
87.5 ~ 108
14 min.
12 min.
12 min.
125 ~ 1000
18 *
18 *
18 *
 Return Loss  (dB)  
DATA 
5 ~ 65
18 min.
18 min.
18 min.
65 ~ 1000
18 *
18 *
18 *
TV
125 ~ 1000
14 *, but ≧ 10
14 *, but ≧ 10
14 *, but ≧ 10
RADIO
87.5 ~ 108 
10 min.
10 min.
10 min.
Connectors  
IN
 
Terminal Block
DATA
 
 "F" Female
TV
 
 "IEC" Male
R
 
 "IEC" Female
 Screening
30 ~ 300 
85 dB min.
 (According to 
300 ~ 470
80 dB min.
  EN50083-2, Class A)
470 ~ 1000 
75 dB min.
 Impedance
 
 
75 Ω
 Dimensions (with connectros), Weight
70 x 67.6 x 36 mm , 110 g