Zinwell live demos at CES this Jan. 7–10, 2020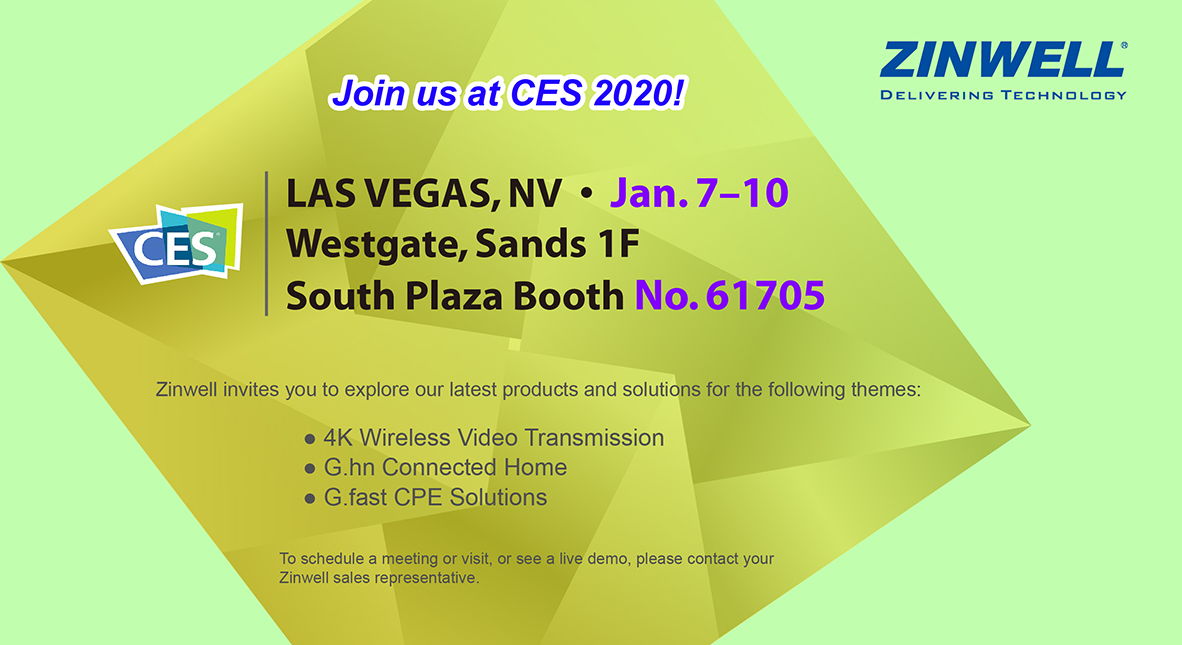 Zinwell will attend the 2020 CES this January 7–10, 2020 (booth location: Westgate, Sands, 1F South Plaza Booth No. 61705). Come join us as we showcase our latest line of home connectivity solutions touching on the themes of:
• 4K Wireless Video Transmission
• G.hn Connected Home
• G.fast CPE Solutions
4K Wireless Video Transmission Kit
This year, Zinwell is excited to offer live demos of our latest products, including the 4K Wireless Video Transmission Kit. Comprising a sleek transmitter dongle and receiver box, the Kit delivers content at true 4Kp60 resolution wirelessly with stunning picture quality.
The Kit's receiver box can also receive multiple sources of content at distances up to 50 meters—all at the touch of a button (perfect for meetings & large venues). As long as each source has its own transmitter dongle, users can transmit their content instantly, all without special drivers or configuration (plug-and-play).
For inquiries or to schedule an appointment, contact your Zinwell sales representative, or send an email to d-sales@zinwell.com.tw.
About Zinwell Corp.: Founded in Taiwan in 1981, Zinwell is a provider of digital cable/satellite/terrestrial receiving equipment, broadcast and broadband communication equipment, IPTV receiving equipment, and wireless equipment. As a leading enterprise in these fields, Zinwell has discreetly laid the groundwork for long-term development. In addition to our human resources, we never cease to foster technical know-how, products, and teamwork. Our potential and creativity always keep us moving with technological trends…to help make your life well.
MaxLinear G.hn Wave-2 Technology Selected by Zinwell for New Family of Home Networking Products
Gigabit-class powerline backhaul provides significantly higher data rates and lower latency than traditional Wi-Fi mesh solutions
Advanced TR-069 support delivers carrier-grade remote management capabilities
CARLSBAD, Calif.--(BUSINESS WIRE)-- MaxLinear, Inc. (NYSE: MXL), a leading provider of radio frequency (RF), analog and mixed-signal integrated circuits for the connected home, wired and wireless infrastructure, and industrial and multimarket applications, and Zinwell, a leading manufacturer of wired and wireless broadcast and broadband communication equipment, today announced a new family of G.hn home-networking products based on MaxLinear G.hn Wave-2 powerline technology.
Zinwell's new G.hn product family includes several devices that enable consumers and service providers to build gigabit-class Wi-Fi networks with whole-home coverage:
PWS-9121 (base model) and PWS-9131 (pass-through model) are 802.11ac 2x2 dual-band concurrent Wi-Fi extenders that leverage MaxLinear G.hn Wave-2 technology as a gigabit-class powerline backhaul. Both devices include a Gigabit Ethernet port and an easy-to-use push-button configuration. They are available in EU and US plug versions.
PLS-9111 (base model) and PLS-9141 (pass-through model) are Gigabit Ethernet adapters with embedded MaxLinear G.hn Wave-2 powerline connectivity. Both devices are available in EU and US plug versions.
By leveraging MaxLinear's industry-leading G.hn powerline technology, Zinwell can offer a solution that delivers a robust whole-home Wi-Fi experience while avoiding the problems often found in other Wi-Fi mesh solutions (wireless signals blocked by walls, interference from neighbor wireless networks, unpredictable latency). Because G.hn powerline technology is not affected by walls or congested wireless spectrum, consumers experience a high-performance Wi-Fi service that meets the requirements of 4K and 8K IP video, online multi-player gaming and cloud-based file sharing. Service providers see a reduction in truck rolls and customer complaints, while simultaneously increasing their remote diagnostic and proactive management capabilities.
All Zinwell home-networking products based on MaxLinear G.hn Wave-2 technology are fully compliant with the latest version of the ITU-T G.hn standard, and are certified according to FCC, UL and EN50561. All products support IPv6, remote firmware upgrades, 8-level QoS, IGMP snooping for multicast IPTV, web-based management, AES-128 encryption and VLANs. A carrier-grade version which includes TR-069 remote management is also available.
"Zinwell is one of the leading providers of networking products for the consumer and service provider market, with several years of experience building powerline products," said Will Torgerson, Vice President & General Manager of the Broadband Group for MaxLinear. "We are excited that Zinwell has chosen our G.hn Wave-2 technology to power their new generation of home-networking products."
"MaxLinear's G.hn Wave-2 powerline technology provides the fastest data rates in the industry, so it was an easy decision for us to select it to power our newest home-networking products," said Mark Yang, Digital Product BU Head at Zinwell. "Using our G.hn/Wi-Fi extenders and G.hn/Ethernet adapters, carriers can deliver on their promise of gigabit broadband anywhere in the home, without any of the performance and latency problems associated with other Wi-Fi mesh solutions in the market."