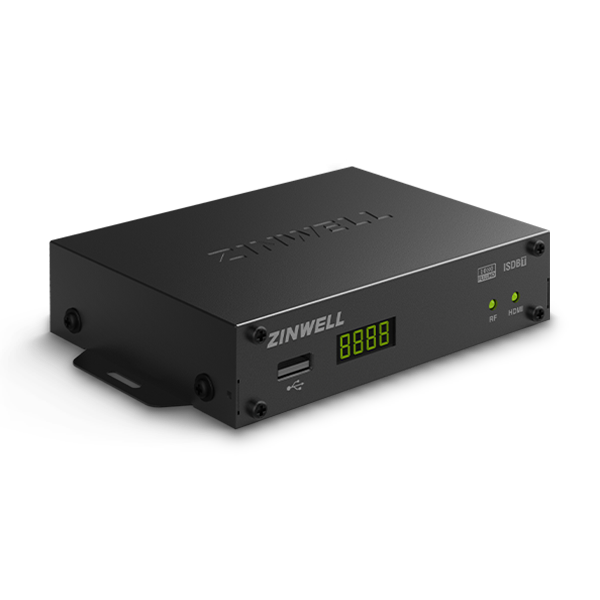 ISDB-T Standard Compliant
1080 Full HD
High MER and Output Power
Android APP for Easy Installation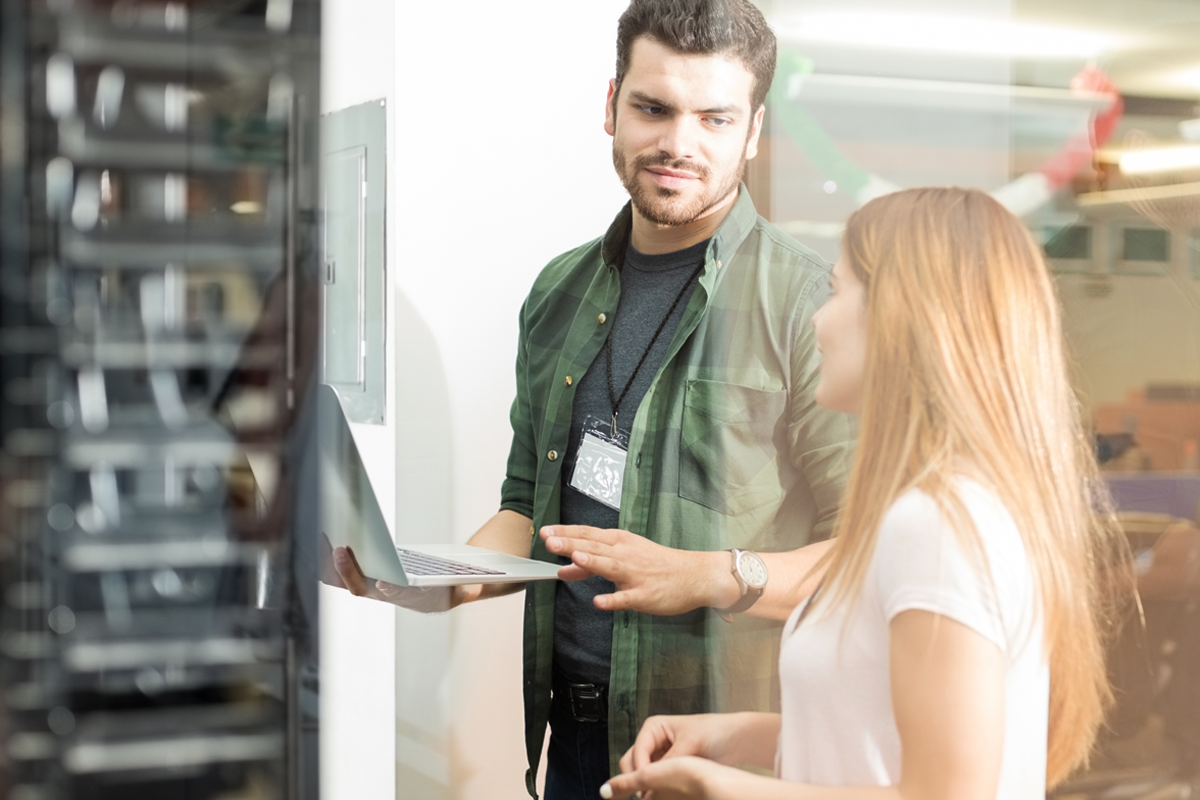 Zinwell's ISDB-T Modulator converts any media's video into Digital TV compatible signal. By connecting the HDMI output of the STB, OTT, CCTV, DVR to the ISDB-T Modulator, you can assist the video with a digital TV.
With several modulator mounted in a 19" rack, a mini-headend can be assembled to distribution video of various sources in a building just like CATV.
Powered by Android APP, setup and configuration are made simple with a few touches on the mobile phone screen.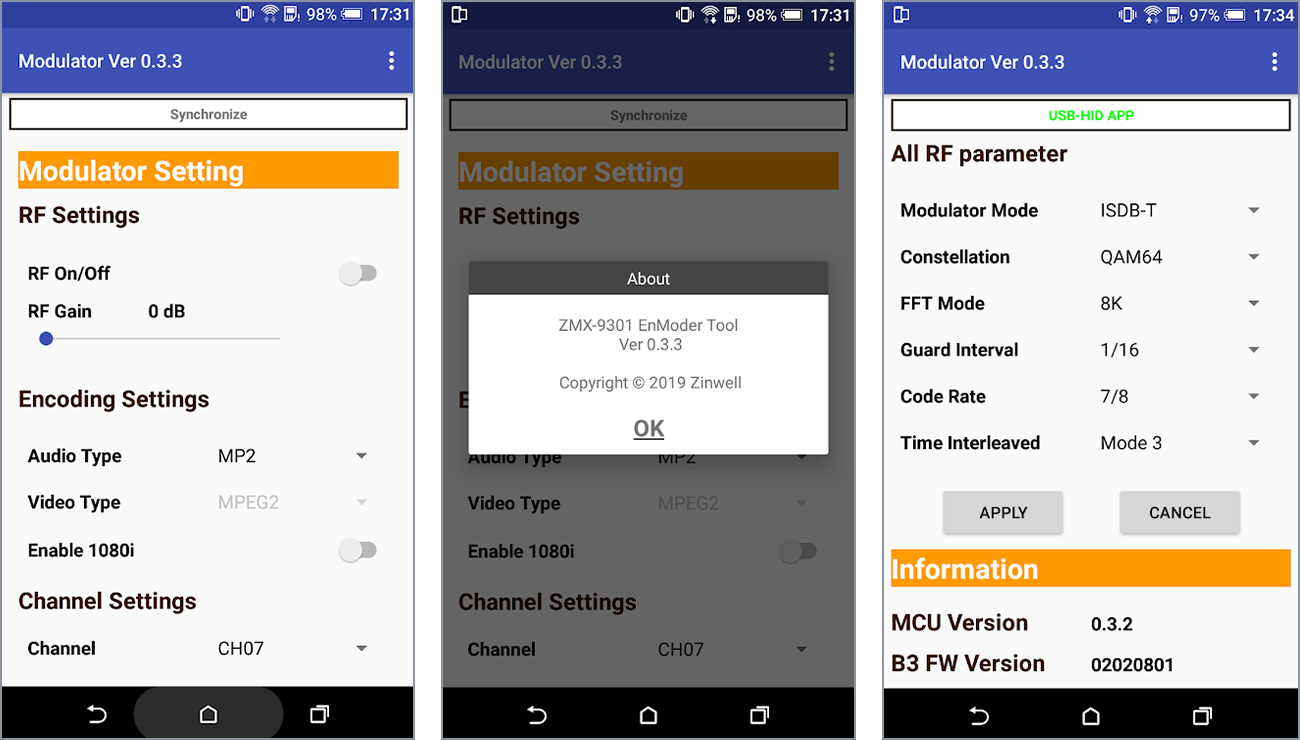 Application
CCTV In Collective Antenna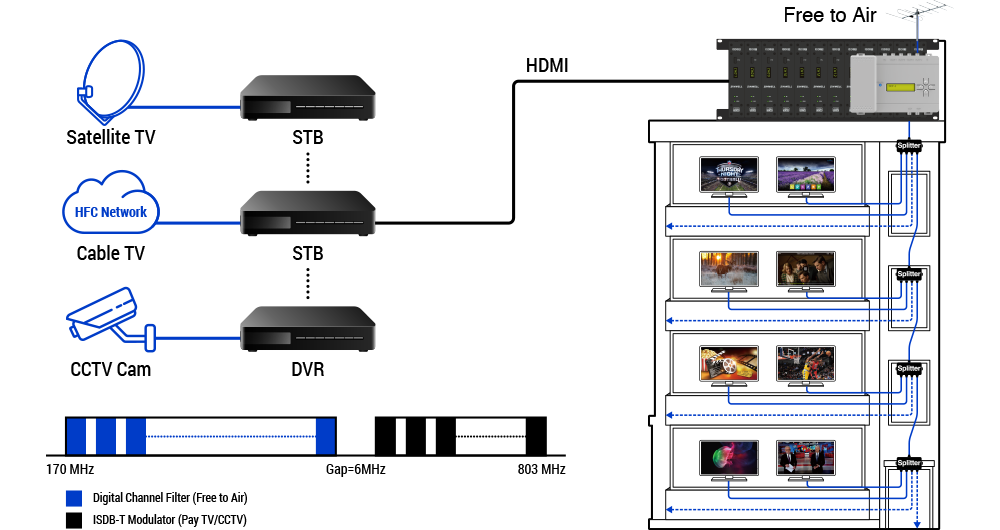 HDMI Input
Video Encoder
H.264
Video Resolution
up to 1920x1080 30p
Audio Encoder
MPEG Audio, AAC-LC
Sample Rate
32KHz, 44.1KHz, 48KHz with sample size 16~24 bits
Power
Input Voltage
DC 12V, 1A
Modulation
Bandwidth
6 MHz
Constellation
QPSK, 16QAM, 64QAM
MER
VHF (177~213 MHz)
≥37 dB
UHF (473~803 MHz)
≥35 dB
RF Output
VHF (177~213 MHz)
0 dBm (±3)
VHF (473~803 MHz)
-5 dBm (±3)
Dimensions
Casing Size
125mm x 92.2mm x 29.6mm
Ambient
Operating Temperature
0°C ~ 50°C
Storage Temperature
-20°C ~ 60°C
Specifications are subject to change without notice